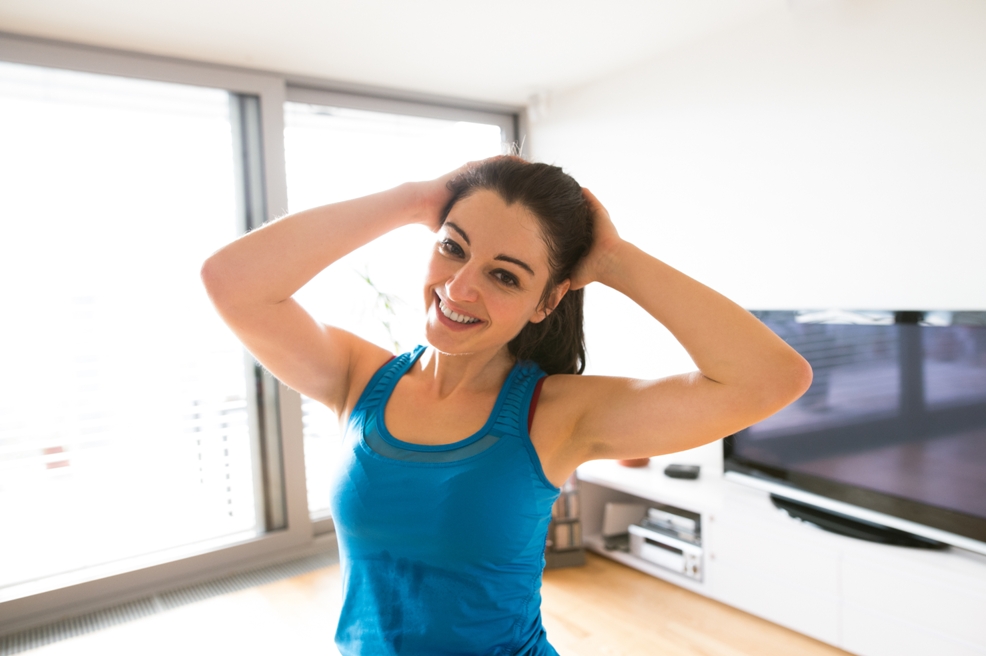 I am a lazy person like you when it comes to exercises. I have a thousand and one excuses to postpone weight-loss and the primary one is catch up on sleep. And hence, I searched for some exercises that I can do even when I wake up late in the morning. Here are some of them. However, consistency is the key to these exercises.
1. Walking in Place
Wear your walking shoes and just start walking, wait, at the very place you are standing. You do not need to go out, choose a route, and come back tired, etc. For this, you just need to wear your shoes and walk in the same place. It is known as walking in place or marching in place. Try this, it is possible. You will love it.
It is as effective as regular walking and I like it because it gets me going. You can sneak in this exercise during commercial breaks while keeping a watch over boiling milk and even when you are talking on the phone. Easy and simple, isn't this?
2. Stationary Jogging
This particular exercise requires you to run or jog at one place. Remember that you wear shoes while doing stationary jogging. It helps improve cardiovascular health. With this, I am not worried about monsoon.
Whatever the weather be, exercising is a must. Stationary jogging helps to lose weight by burning calories. When you are pressed for time, this is the best form of exercise. Among other benefits, it helps build strength and prevents cardiovascular diseases as well.
3. Jumping
You are right, jumping is indeed an exercise. You will love it because it does not require any practice or investment. Just start jumping, whenever you feel like. However, you should first warm-up before starting jumping. Initially, start jumping gently. Once you are comfortable, start regular jumping. Keep your feet shoulder-width apart and arms locked on your sides. Start jumping now. Alternatively, you can do jumping jacks – just change the position of your hands. In jumping jacks, your hands should be at your shoulders.
4. Aerobics Stepper
You need equipment for this, but nothing more than that. You can either look for a plank or a step bench that is 4 to 12 inches high or else invest in aerobics stepper. I did not find it too costly and bought one. I began with stepping up and down the aerobics, just like we do on stairs. It was fun. Then, I hunted for some more exercises using step aerobics. Put on some good music and get on with stepping.
You will be surprised to know the benefits of step aerobics. It is a low-impact exercise that burns huge calories in minimum time. If you want to strengthen your butt and surrounding areas, this is perfect. It is hassle-free and does not require going out anywhere to workout.
5. Hula Hoops
I have talked about hula hooping earlier in my posts. Hula hooping burns calories without even you realizing it. You will be surprised to know that hula hooping is a complete body workout. You just need to invest in a hula hoop for this exercise.
It is also possible to choose between weighted or simple hula hoops. Whenever you wake up late or return late from office, hoop for some minutes. It burns 50 calories in 8 minutes, interesting, isn't it?
6. Skipping Ropes
Yes, skipping rope is an exercise, just like hula hoops are. Invest in good quality ropes for this. It is a good cardio exercise and burns more than 1000 calories per hour. Further, it is a full-body workout and concentrates on strengthening your thighs and calf muscles. You can do skipping both ways – barefoot or wearing shoes. There are several types of exercises you can perform skipping – double jump, cross jump, etc. Find the one that suits you and start skipping!
Also Read: Big Skincare Mistakes to Avoid Before, During and After Workout
Conclusion
This is interesting, right. So, next time, when you give an excuse for not exercising, think about these exercises. These do not accept any kind of excuses. In conclusion, Just get up from your place and start doing them.
You can even do this while you are in the kitchen and waiting for the water to boil. If you have some free time on your hand, these could be done at the workplace as well. Take your kids to play area and while they play, do these exercises. You can even involve kids and make exercise fun.