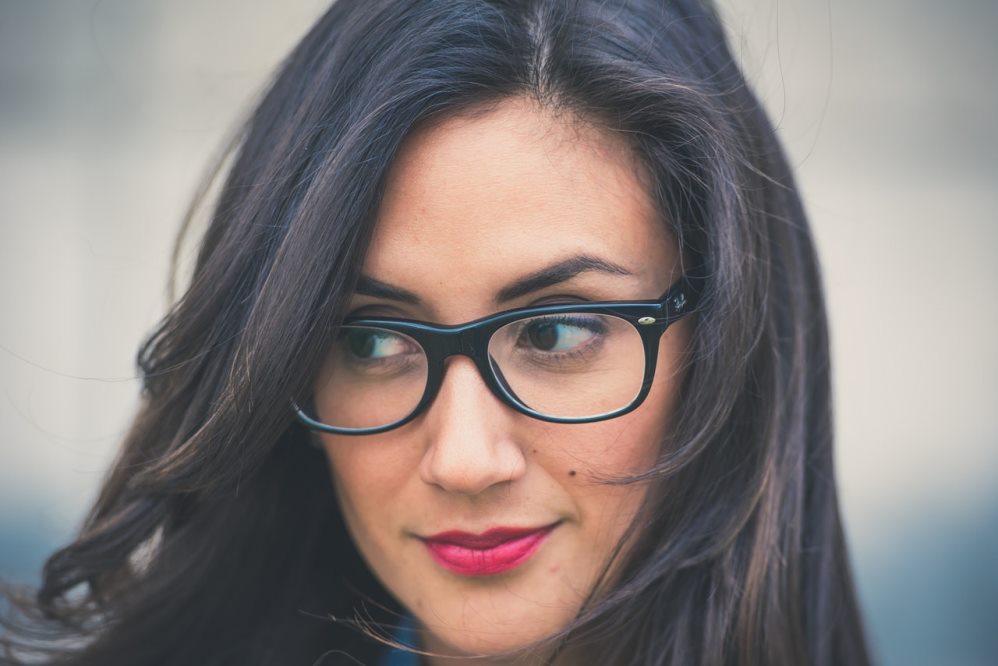 "Wrinkles mean you laughed, grey hair means you cared and scars mean you lived." – Unknown
This surely sums up the way I want to live my life. I do not want to look beautiful but I want that every person with whom I cross the paths of my life should think that I am the happiest person he or she met. Grey hair is not the end of life. It is just the beginning of a beautiful one, every day and in every way.
Once I heard a lady talking to her husband in a store, while I was shopping.
"She's so smart and learned. She seems so. Look at those salt and pepper hair"!
Initially, I thought she was talking about me (just kidding). But, when I heard the entire sentence, I realized it is about my aunt. When my aunt spotted her first greys, she was quite worried. However, the next moment she decided that she will make grey hair her highlight rather than her weakness.
I cannot fathom what got next into her, she transformed completely. She learned swimming at the age of 40. After swimming, nothing stopped her. She got all the more strong and learned guitar, French, and even went on a world tour with a group she met on Facebook.
Yes, she did. I was quite amazed. When I told her about the comment made on her in the superstore, she divulged the secret of her newfound energy. She told me, "If I had hidden my grey hair, I would have been hiding my real self all my life. When I stopped caring about my grey hair, I stopped caring about what others would think of me."
Such wise words she said. I think grey hair has actually made her knowledgeable. Now, I am waiting for some grey hair to appear so that I can jot down my wise words.
Shampoo and Conditioning of Grey Hair
Grey hair does not mean that life has come to an end. It also does not mean that you will have to stop taking care of your hair. With grey hair, you need to be all the more cautious.
While grey hair looks beautiful, but they might turn yellow if not taken care of in the right manner. Choose a good quality shampoo for your hair. Opt for one that is loaded with antioxidants and prevents hair damage. Regularly oil your hair, shampoo it, and even condition them. Another thing that is important is deep conditioning. Your hair needs regular deep conditioning as well. Use a good toner for your hair – one that is specially meant for grey hair.
Prevent Grey Hair from Environmental Damage
Pollution is the biggest enemy of your grey hair. Cover your hair when you go out. Prevent going out in the sun, especially when the UV Rays are very harsh. When you go, you need to mask your hair completely and then go out.
If you go out regularly, then make sure that you wash your hair on a regular basis – not on a weekly or fortnightly basis. If you work and step out immediately after washing hair, then wash your hair after returning from work. This is because wet hair attracts dust and pollution all the more. Grey hair tends to be brittle due to loss of melanin. Hence, avoid using too tight rubber bands. This will make hair loss inevitable. Also, avoid excessive chemical treatment on your grey hair.
Also Read: How to Handle the Stress of Parenting
Haircut and Styles that Suit Grey Hair
No, you are not old. It is not the time to settle for an average haircut. In fact, this is the time to go for a stylish and smart hair cut that makes you feel good about yourself.
Make sure that you get your hair trimmed regularly. This will keep hair damages at bay. You might want to go for a haircut that is short and easy to manage. As grey hair is brittle, they tend to break easily. To save your hair from such damages, try something that suits your face cut and even your hair type. If your grey hair is long and beautiful, opt for layers. Silver and white hair when layered looks stunning in every sense. For straight gray hair, bob cut suits quite well. A bob cut or even a pixie cut does not require much maintenance and are easy to manage as well. To add to the beauty, get platinum highlights too.
Grey hair does not mean you cannot get your hair colored. Team up your silver hair with golden, blonde, or burgundy highlights. You will never repent this choice.
Flaunt Your Grey Hair with Fashion with Flair
It is time to change your style and flaunt your greys. Do not look dull or miserable in grey hair. Wear outfits that match your grey hair and even make you look sophisticated. Do not make the mistake of choosing clothes that do not fit your style but make you look young. Always make sure that you wear and flaunt what you feel comfortable in.
Colors that might suit your personality now are hues of blue, purple, and even some shades of green. Choose the color that you wear depending upon the color of your hair, eyebrows, and even eyes. You can either color co-ordinate your footwear or go in contrast with them.
Make-Up Hacks for Grey Hair
Going grey does not mean chucking make-up altogether. You just need to adjust your style of make-up to suit your new look. Warm-up your skin tone through make-up products that blend in your complexion. Choose lipsticks that bring out your personality. Opt for a color that suits the occasion – whether fun or sophistication. But do not make the mistake of using light shades. Your face will look flat. Choose brighter shades.
Grey hair and beautiful cheeks complement each other. If you have never highlighted your cheek, this is the time to flaunt them. Go easy on powder and instead blush your cheeks in hues of peach or other light shades. Kohl and eyeliner are some must-haves in your make-up. Make your eyes pop with the right make-up. Opt for warm brown colors for your eyes. You can even go for darker shades of blue.
When it comes to eyebrows, you can choose to keep them original and let them match your hair color at their own pace. Some experts even suggest using a black color pencil for eyes or dyeing the eyebrows brown for a mature look. Ask your stylist for suggestions.
Also Read: Embrace Late Motherhood – Benefits of Starting a Family After 30
Finally…
Ah! How smart you look in your gray hair. With perfect make-up and an edgy fashion sense, I am in awe of your personality. Go! Girl! Go! Your grey hair has begun another innings in your life – a beautiful one.
Chuck that old lady sitting inside you. Instead embrace the new one, who wants to take you places! Let's believe in ourselves and let's set the world on fire!